It is so important to support our small businesses (we know this because we are one.) That's why this month PoleBoxx includes 5 items from small UK pole businesses. So make sure you share these products on social media, leave reviews and most importantly check them out!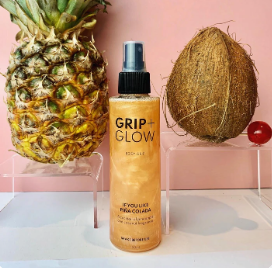 Grip Glow
Body Grip
GRIP GLOW pole grip range is designed for Pole fitness ent
husiasts that
would like a little help with body grip to improve their training
or performances.
This special formula has moisture drawing properties to give
you added grip!
RRP £19.99

Xana Polewear
Large Pleaser Sticker
Snazz up your laptop, bootify your notebook or add to your beloved sticker collection.
RRP £3.99

Athena Athletics
Crew Socks
Athena Crew socks are the perfect way to accessorise your gym outfit and stay bang on trend. These socks have a ribbed construction for a secure fit and are designed to be comfortable and breathable when working out
RRP £11.99

PoleBoxx
Create Your Own Combo
Spin Pole
We're back with a brand new 'Create your own Combo' poster. Pick a side either beginner to intermediate or advanced to expert. Select a move and create combo by selecting a move to the right or down.
RRP £2.99

Creative Nature
Oatie Bar
These Bars contain a number of healthy minerals, including magnesium, potassium and iron, which are destroyed when heated into commercial chocolate bars. That's why they're cold-pressed to retain all the vital nutrients and added some extra Superfoods to further boost the nutrient content like Vitamin-rich Goji Berries and Calcium-rich Maca Powder.
RRP £1.35